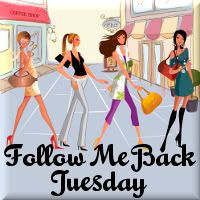 You follow me, I follow YOU... =D
YAY!! MORE BLOGGY FRIENDS!!
Click the pic or link above and JOIN the FUN!!
******
So... Since part of this FMBT involves a comment... I say let's make this a little promotional TALK TO ME (and everyone else that sees these comments...) about YOUR BLOG! What kind of blog do you have?
For example, My blog is a random catch-all & Mommy Blog... I guess... LOL!! My random thoughts flip the switches in my brain that decide to create a post. I try to be helpful, informative, and share good information I think others will appreciate. I do occasionally RANT... *sigh* sorry... and I share my photography and some of my daily experiences. I know, PRETTY RANDOM!!
I also try to educate a little on my little disorder called bipolar. I have links in the left corner that can help anyone that desires to learn more about it. There are also some links to others with this disorder who also have blogs... I want people to be more AWARE of what it's all about and reduce some of the stigma that is running rampant in the world concerning it. It CAN be the scary things that is the STIGMA out there... BUT it can also be controlled by most individuals and they CAN lead productive lives with the proper treatment/meds/care/support. Even many IN the medical profession are not fully educated on this disorder and contribute to the stigma. *sigh*
Don't worry, I'm NOT always talking about this, so I hope you'll follow me on my roller coaster ride... I'm usually pretty UNDER CONTROL!! LOL!! They may call it bipolar... I call it MULTITALENTED!! I've gained MANY talents through my manias!! LOL!!
Hey, I'm thinking of doing some giveaways and featuring some of my BLOGGY FRIENDS... I'm also going to occasionally do AWARENESS POSTS for various things. Yesterday I did one on Epilepsy for a friend's son.
Now tell US a bit about YOUR blog!! Also, would you mind being featured or even doing a guest post sometime??? If given that opportunity, WHAT would you want your subject to be? Do you have any CAUSES you'd like to see discussed?
Thanks for taking the time to stop by. I'll follow you back whether you do the TALK TO ME part or not... I have another
COOKING BLOG
: http://tasty-ornot.blogspot.com if you like sharing recipes and would like to follow there. =D (((HUGS)))