Karen is STILL off doing GOOD!! Hope she's loving it!
********
I AM the TRIAL wife! ...as in, hubby's trial IN life! I've told him that he is so easy going and nothing gets him down, so God decided that he needed something that would really be a challenge for him to earn his place in Heaven. Hmmm... guess that would be ME!
I have been slipping further and further down in a rut. Pretty sure I need an adjustment on these meds... Need to step up my treatment... I've been feeling like reality is hitting me upside the head and the things I've wanted to believe aren't really so... I'm looking at things in life and feeling totally broken, unfixable, unimportant, unlovable... I have abandonment issues from the past... As I can logically think this and bipolar may be it, my emotions run with it as reality. I pray it's not... But in thinking on many of the things that have been eating at me, I'm not seeing or feeling support that I need or like to think I've had from the ones that should love me... my family. Can't go into it much today... Some days are so messed up and I'm feeling like going back to the blog title of Endure to the End, again. Gee... people could tell my mood swings by the changing of my blog titles back and forth. ;p At any rate, I'm feeling much more like an ugly lump of coal than a potential beautiful diamond. Sometimes I want to go into cold storage until there's a magical fix all... or just quit altogether... Thursday night I have to sleep at a "SLEEP CENTER" to be fittedfor a CPAP mask and have the oxygen adjusted... HOW am I supposed to SLEEP in a strange place while being WATCHED??? GAH??? Dying in my sleep doesn't sound so bad... What if I just don't go? ;p *sigh*
****************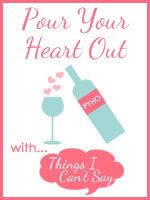 I blog because I like to pretend/think somebody cares. And actually, I have found many wonderful people here and have found support that I never knew existed. I can "POUR MY HEART OUT" and not have to see anyone's eyes glass over because soem of it truly isn't very exciting... *YAWN FEST* This is therapeutic. I can share highs and lows. I WISH they could all be highs... but when I hit those lows, this is the ONLY place I can let it out. (and scare away all my readers...)
Family doesn't come here... and if they do, they only lurk and pretend like they don't. It's certainly easier to pretend that bipolar isn't real than the reality of it... Just "get over it..." Right? I open up in a way that I try very hard to conceal in real life. Sometimes I feel like I may burst if I don't get it out. Frequently it feels like family only cares when it's convenient or when I'm doing for them... Sometimes not even then... I try to put on a happy face and pretend like all is well... even when I'm dying inside. And when I am too overwhelmed to put on the facade, I find an excuse and hide. Quite frankly, I don't matter at those times. So long as I don't bring attention to myself and bring others down.
Quite frankly, I have to look at reality and realize that I AM so disposable. They probably would be better off without me. I knew I had a troubled past when I met my husband. In his perfect impression of Rafiki he declared that "It doesn't matter, it's in the past." He said what was important is who I was then and where we we headed together. Oh how I adored him!! But I had no idea the extent of the mental effect it all had taken on me or the genetics that lie lurking under the surface just waiting to disrupt the fragile future. IF we'd HAD a CLUE... would things have been different? Probably...
So now, those words that were such a comfort to me then, sometimes haunt me, now. I honestly felt like any depression/mania type situations I'd dealt with in my past were due to life circumstances that were thrust upon me. I was sure that with this man by my side, with his support, these things would all remain in the past. Oh how I wish it were true. And OH how I wish things could easily roll of my shoulders into oblivion the way it does him. I am so ultra sensitive to judgments of others. When my mind races, it is usually like a broken record player playing all my doubts, fears, and the criticisms of others repeatedly in my mind. It has a crippling effect on me.
If he'd known that I was bipolar then (neither of us were aware of it then...), would he have run in the opposite direction? Is he only with me now out of obligation? Because he's too good a person to walk away to an easier life? Trade me up to a new and improved model... One that deserves the respect of his children and grandchildren... Well, they have the better one they can get back to in the next life...
I'm working on bringing the positive back. I'll have SOMETHING positive tomorrow!! I PROMISE!
(aka Endure to the End!)