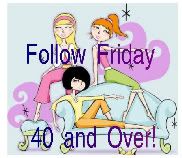 This is the first time I'm participating in this one. I actually am pre-posting this because I am out in the wilderness roughing it for the rest of the week. However, I would LOVE to read your comments, hope you follow, and I WILL respond and follow EVERYONE who DOES!! (((HUGS)))
I found Michele at
Fake It Til You Make It
through
Never Growing Old
. I was checking out the
OVER 40 Bloggers
and HAD to check this blog out because "Fake it till you make it" is kinda' my MOTTO in life!! LOL!! I found her to be most inspiring! Every post!! WOW!! She is A-MA-ZING!! CHECK HER OUT!
I'm going to write about when I was the WORST mother in the WORLD!! That IS how I felt!! I was getting ready to start dinner. I pulled out the fryer and turned it on to heat it up. I was getting things out to prepare. The toddlers were playing in the family room. I went to the garage to get the potatoes. WHERE WERE THEY??? Oh yeah... still in the TRUNK! I returned to my toddler, age 3 (Stitch Kid... now ALMOST 13...) whimpering in the kitchen... He was covering his face, a chair was pulled up to the counter, and the ladle was in the fryer with wet splashes around it... HOLY CRAP! He had pulled the chair up, dropped the ladle in the fryer and it slashed up on his FACE!!! I pulled his hands away to see. It was a bit red... I ran him to the sink and started splashing cold water on his face. As I was WATCHING, the reddening worsened and blisters started popping out. I was FREAKING OUT, crying, the works. He looked stunned and asked "WHY you cry, mommy?" WOW!!! I called hubby and he was almost home. He gave him a blessing and we took him to the Emergency Room. They referred us to a plastic surgeon, as they thought that might become necessary... I was also afraid for that eye!!
OMG!! My BABY was going to be SCARRED for LIFE and it was MY FAULT for walking away for a MINUTE!! We took him the next day to the Plastic surgeon and he said that we had to give it some time before knowing how to proceed.
I teared up with guilt every time I looked at him and just had to ((HUG)) him!! He thought I was funny!
Next visit I was still quite upset, but the doc seemed surprised at how well it was healing. ??? WELL??? DID he LOOK AT HIM??? However, we COULD CLEARLY see that his eye was FINE! WHEW!!
This is actually after about 3 weeks! He WAS healing AMAZINGLY WELL! Even the specialist was amazed at how quickly and completely!
Always happy through it all! It was such a blessing. And yet, I was so guilt ridden until he was healed completely... and even then. He miraculously healed completely!! We don't EVEN see a scar of where it had been... AMAZING!
Here he is with his FAVORITE SIS 6 months after it happened!
Almost 13 now... LOOK MA! NO SCARS!
He's STILL SMILIN'! =D
Thank you, Father in HEAVEN for your TENDER MERCIES!!