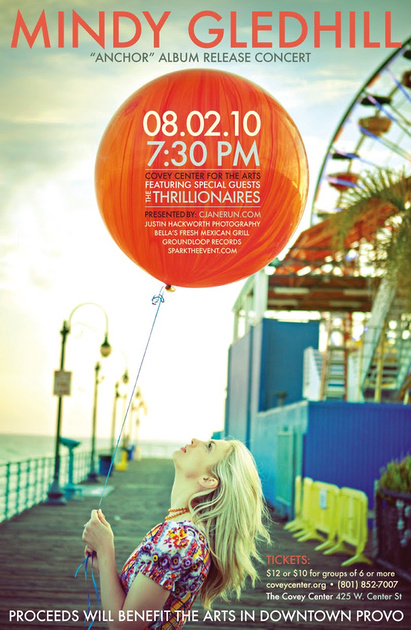 I am SO EXCITED about this!! I had to do some creative thinking to get away with this being a Monday night. Granted, this COULD be a GREAT FAMILY event... SO that was my first suggestion. I LOVE LOVE LOVE
Mindy Gledhill
!! I had the pleasure of hearing/seeing her perform many of her songs from her new album at the Casual Blogger Conference in May and they are AWESOME!! I purchased her
Feather in the Wind album
there and it is my new favorite. She sings the soundtrack to my LIFE! So I told hubby I'd really love to go, but it's on a Monday, but we COULD go as a family! He wasn't too excited about paying that much for each family member to go when the concert wouldn't be his or the boys' (11 & 12) thing. So then I suggested, "What if we do a Family Home Day that day? That way, I'm there for it, but free to go to the concert that evening. His reply, "I think that'd be alright." WOOHOO!! BINGO!! BOOYAH!!
Her new album
ANCHOR
is due to be released Aug. 4. Those attending her release concert Aug 2 have the opportunity to purchase it then!! So, you better believe I WILL have that CD in my little hands 2 days EARLY!!
My favorites (life songs of current life with hubby) from Anchor are: I Do Adore, Crazy Love,
Anchor,
California, & Circus Girl (Oh heck! ALL of them!)
You can hear tracks of these albums by clicking:
Now you KNOW I want to get my tickets ASAP so there are good seats left... So HERE is my question to YOU: WHO wants to go WITH me?? Lisa, Krista, Annette, Megan, CBC Conference goers that loved her, Mom (I KNOW you lurk here, too...) ANYBODY...?? The tickets are $12 each. However, if you have a group of 6 or more, they are only $10 each! The concert is in Provo. Those in my local area... We could carpool! Let me know ASAP and we'll get our tickets together! How FUN is THAT??? I will plan on the BIG purchase no later than Monday.
So TONIGHT I'm OFF to the
Jon Schmidt
concert at the Sandy Amphitheater with my 11 & 25 yr olds! SO FUN!!! You can BET there's an upcoming post ALL about THAT!
((HUGS))