I know I'm a day late and a dollar short... Sorry... It will be a bit sporadic for a while as I'm WAY behind on several things and really trying to buckle down and accomplish some things I need to. I've been so easily distracted lately. *sigh*
I will difintely make sure the Awareness and prayer list stay on top. This Sunday I will be out of the area and not have internet access, so I will have it set to auto publish. I hope you'll all still participate. ;D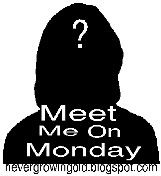 (even though it's Tuesday... OOPS!) ;p
Questions:
1. What is your favorite kind of potato chip?
Ummmmm.... It's never quite made properly...
just kind of straightened. LOL!! ;p
3. How often do you go to the hair salon?
Oh MY!! Notice how my hair NEVER CHANGES???
Once or twice a YEAR!! ;p
I went to a girl's beauty school graduation today. Just walking in there is interesting. I feel like they look at me and think, "Oh WOW!! We NEED to FIX THAT!" LOL!! Our own daughter's that went to beuaty school did my hair ONCE and because it is so long and thick, NEVER wanted to touch it AGIN!! One was doing a color and weve for me... It took her like 4 HRS just to do the color and she just didn't have anything left in her to do the weave part. *sigh* So, I just leave it be and occasionally get it thinned and trimmed. ;p
4. What do you dip your French fries in?
FRY SAUCE!!! I know, MOST of the world has NO IDES WHAT that is or how YUMMY it is!! More or less, it is ketchup and mayonnaise mixed. ;D YUMMY!
5. Do you shop with coupons?
Only if they're handy. I'm not organised enough or spend the time, usually. When I've clipped them, by the time I come across them again, they're expired. Yeah.... But sales... if it's a good sale, I'm THERE!!