If you were a crayon, what

c

o

l

o

r

would you be?
I guess MY question is; Do I get to CHOOSE the color??
If so, I'm sticking with the BURGUNDY!!
Even after discovering what it supposedly represents.
To ME it IS regal and rich... It IS beautiful!!
If it is more what I AM rather than my CHOICE...
I guess that may be a different story.
Is there a

r

a

i

n

b

o

w

colored crayon?? LOL!!
I just have to make EVERYTHING SO COMPLICATED!! ;p
I have many facets that make up my WHOLE!!
This can have different outcomes.
Sometimes WONDERFUL... others, NOT so much...
For example, A

R

A

I

N

B

O

W

is a beautiful thing!!
The colors separate, yet blend in such magnificent beauty!
Now look at the flip side... Did you ever do the stained "glass" art project with crayon shavings when you were young? I did; it didn't always turn out so pretty. I have many colors!! So... I shave many different colors together thinking it would actually come out with the different colors fading from one to the other. It doesn't always work that way. Sometimes they just MUSH together making kind of a "POOPY" color... Bleh!
Since, I have learned that it also depends on the degree of heat and amount of time the heat is applied that will blend it nicely, or "POOPY... I guess that is kind of how my life is. My many facets can blend nicely when the heat isn't turned up for too long... ;p How's THAT for an analogy of crayon colors vs my life??? LOL!!

Now for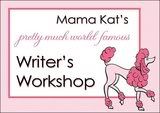 Choose a prompt, post it on your blog, and come back and sign Mr. McLinky (Click button above to go to McLinky on her post). Be sure to sign up with the actual post URL and not just your basic blog URL (click on the title of your post for that URL). For good comment karma try to comment on the three blogs above your name!!
The Prompts:
1.) Your childhood neighborhood.
2.) I was holding on tight but…
3.) "It was as if an invisible thread hooked her to her boy. The thread could go taut or slack but it could never come undone, it could never reach the end of its spool because there was no end; it bound them forever." What does unconditional love mean to you?
4.) Can it be saved? Think of something that is ruined when it's totally wet: like a newspaper or a piece of cheese. Write a scene (truth or fiction) that involves you and a soaked item.
5.) What five images paint a perfect picture of summer to you? Put those five images together in a piece of writing.
I chose #4 and it IS a TRUE STORY. ;p
In 2006 I had an AWESOME experience meeting up with friends in NYC to see Patrick Wilson perform on Broadway in Barefoot in the Park and check out the sites!
(This is when I met Karen in person... She's AWESOME!) To chronicle that whole weekend will have to be a post for another day. But THIS is when my story took place.
It was the first Sunday in April. Conference for the LDS Church. My plane was heading out at 4pm and I had to be out of the Hotel by 11am. There were 5 LDS gals in our group, but 2 of them (Karen and her friend Kelli) had an early flight. The 3 of us that were left decided to go to the NYC/Stake Center (The other side of the TEMPLE... SO COOL...) to watch conference.
I had to go to the powder room... YES... It's a BATHROOM STORY!! (I KNOW Krista could make this MUCH more entertaining... Sorry... I'm just not that talented... *sigh* ) It's also an "If I knew THEN what I know NOW..." story. You can probably see where this is going... ANYWAY, my FANCY HOT PINK RAZR went for a SWIM! BLEH!! YES! I DID!!! I REACHED in and GOT IT! (Don't deny that you wouldn't have... I KNOW SO many that HAVE... In my defense... it was a VERY CLEAN bathroom... LOL!) SO.... I hurried and wiped it down and tried to dry it off the best I could. Washed up my hands AND ARM... Here's where I made the mistake... I turned it ON to see if it would still work! DUH!!! (I plead IGNORANCE!! I didn't know NOT to do that... or about rice in a zip loc and leaving it for a few days, etc...) The phone kind of flickered and shut down again. AAHHHH!!!! My stomache had sunk to my feet and my heart jumped to my throat! How was I going to communicate with the hubs??? Surely... since the porcelain throne WAS in a HOLY place... SURELY it would be alright in the end... RIGHT??? UGH!
When the meeting was over, I asked one of the ladies I was with if I could use her phone to call the hubs and inform him that I would not be able to have contact with him until I actually got home due to the adventure my phone had gone through. Unfortunately, I tried a few more times throughout the day to turn it on... So you ALL KNOW I "Dun it IN!" AND Of course I learned the HARD WAY what NOT to do... No matter WHERE you send your communication device for a DIP!! *sigh*