I have to put this at the top here, because I feel SO HONORED!!! My friend (and blog HERO),
Karen
made Diamond Potential (MY blog... THIS one!!) her
BLOG of the WEEK
!!! How COOL is THAT??? You have to realize that she is like celebrity to me... You know, Up there with
The Redhead Riter
,
Pulsiper Predilections
and
Blog O' Cheese
!! LOL!! (I know, Cheesboy's gonna LOVE THAT!!) ;P I know, I don't get out much!! However, THESE are ones that I LOVE!! I have to ADD my oh so sweet friends and always sure to bring a smile to my face,
Blue and Shoe
and
Shades of Blonde
!!
So if ANY of you reading this are unfamiliar with ANY of the above mentioned AWESOME BLOGGERS... GO CHECK them OUT!! You will NOT be sorry!! You can come back and thank me if you want. LOL!! I KNOW you'll WANT TO!! ;D ((HUGS))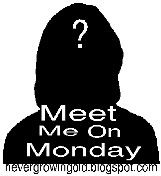 Questions:
1.
What is your favorite kind of doughnut?
Bavarian Cream Filled Bismarck!! No DOUBT of it!!
2. How often do you pray?
All the time. Frequently seems like my mind is rambling a conversation with him in the back of my head constantly... Yes, I do the traditional kneel down with the fam and at the dinner table type, too... I find that it's hard to open up about my most intimate needs nad thoughts when others are listening, though. When I have the most soulful prayers... DON'T LAUGH... It's frequently in the stand up shower because NOBODY interrupts me there!! ;p
3. What is your favorite kind of music?
Music that speaks to me! In different moods, it's different things. I can honestly say it is NEVER hard rock or rap!! BLEH!! Sorry, I consider that noise that is only there to give me a head ache! Anyway, The ones I've found myself listening to the most would be
4. What do you order when you eat Chinese food?
Either Orange Chicken or Beef with Broccoli usually. Sometimes I venture out!
5. Would you rather snowboard in the winter or swim in the summer?
Seeing as how I like my bones to remain in tact and hat to be COLD... I'll stick with swimming (in my pool for privacy...) in the summer!! (...in the evening, when the sun won't give me a migraine OR burn/freckle my skin!) ;p
Want to jump in??? GO FOR IT!!
src="http://PixPlus.zenfolio.com/img/s8/v12/p442898307.jpg"
You have been honored with this award. There are often things that others are uninformed of and therefore, they rely on unreliable sources and/or assumptions about things. There is STIGMA in many facets of life. AWARENESS is how we can overcome ignorance. This is your opportunity to help educate others about a cause you believe in.
Let others know who gave you the award and link back to them as a thank you.
You may give this to as many or few individuals as you choose. This should be awarded to those with a cause. Something they want to raise awareness about. Don't forget to notify your recipients of the award.
Display the badge in your post and tell us about what you would like to raise awareness about.
Link your Award post to the Awareness Award Page so that as others find out about this, they can link back to your post and learn more. (In the Linky provided here)
Let's change the world; one blog post at a time!

Don't forget to Link your AWARENESS AWARD post here:




(This will be my featured Awareness post this week)
My hope and prayer is that each of you will make a small mention of your cause and award, and pass it along to some that you know that support a cause. We want to build this and spread awareness!! ;D
Anyone can link up anytime with their cause on the Awareness Wednesday Page. It is only featured on Wednesday, though. All previous links will remain in tact.