This song is Broken by Kenneth Cope
I hope it lifts your spirits for a beautiful Sabbath!
This is Dottie's photo...
Today I would like to highlight a sweet and strong lady, Dottie from
Not So Molly Mormon
. Dottie is facing many trials in life:
Any ONE of these would be enough to deal with... Can you imagine it all coming at the same time? WOW!! All of these have many more trials that accompany them.
She is trying to cope with all of these adversities while
attending college
2 days a week,
being a wife and mother
(she has 3 other children at home), and
trying to be the glue
that holds them all together through it all.
She needs love, support, and most
importantly PRAYERS
!! Please only visit and comment with positive vibes, friendship and encouragement. She has enough of the other
CRAP
. She is a strong woman that will get through all of this with a little help from Heaven and friends! LOVE you Dottie!
*Remember, God often answers prayers through others!
I personally know this to be TRUE in my own life.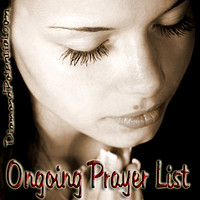 This is an ongoing prayer list of those that need the power of God to help them through a difficult time. Feel free to link up your list. I'll work on a button and we can make this a weekly thing as part of our Sunday posts. Just think of some of those individuals in need of prayers and post so all that read can say a little prayer. The power of prayer is an amazing thing!!
The main list will be updated weekly here and the names will be linked to the prayer list they are on. Thank you for participating!!
This is the main list I will update weekly with those individuals you post in your link and link them to your post:
Cancer Victims in the fight of their lives: Sid, Paul, Redhead Riter's dad, Colette, Angel

Other Health Issues: Melissa, Janie

Terminal Child Disorders: Vincent

Child health issues involving much medical attention: Bug, Robert, Colby

Andy is home recovering from his injuries from being trampled by a bull.

Family/Life Circumstances: Dottie

Suffering loss: Frank, Dawn

Dealing with disorder issues: Holly, Megan, JaimeKay, Teri, Donde,

Current Health Issues: Lindsay

Grieving Family: of Clay Sannar (42) LDS Bishop shot and killed in his office during church by stranger

*Surgical Recovery: Jules' Dad, Colby
*Jules' Dad & Colby came through surgery well and are now recovering. Continued prayers on their behalf is appreciated. ;D