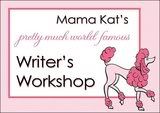 This week's assignments are:
1.) If you could do it over again...
Oh WOW!! I would have NEVER gone out with narcissist jerk... much less MARRIED him!! Of course then I wouldn't have Stitch Kid... and even though he loves to give me a challenge now and then, I wouldn't trade him for ANYTHING!! ;D
2.) If you were put in "time out", where would you want to be placed and why?
In the office... DUH!! That's where my computer is!! I can get a LOT accomplished!! ;p
3.) Steppin outside the box (describe a time when you went way out of your comfort zone)
Going on TREK!! WOW! Definitely out of my comfort Zone... but it was GOOD! ;D
4.) A long drive...
Several times UT to FL or vice versa. (Yeah... 6 times... Northern Ut - Florida Panhandle one way, or the other... NOT a short ride...)
Then when my dad died and we drove from Panama City, FL to NJ had the funeral and then drove to Cape Coral, FL... That was NOT a good experience!! *sigh*
When hubby and I, his sister, Brother and sister-in-law were all piled into his truck and drove to SoCal like sardines just after I had a tail-bone injury. The was a LONG 11 hours!
I actually want my family to hitch up the trailer and go back to my old stomping ground in FL!! Take our time and have our hotel/bathroom/kitchen on wheels!! Maybe next summer!! Or Spring... ?
5.) Describe the first date you went on in a boy's car.
To homecoming '84/5. The school was around the corner from our house. He was only allowed to take me right TO the dance (at the school) and right home again!