This hop is intended for real causes. (Please
don't make up silly or vulgar things to diminish the
importance of causes that hit home to so many.)
This should be concerning something you are
passionate about to help educate others in a cause
to make the world a better place,
create understanding, rally support, etc...
*Let's please keep it family friendly, too. Thanks!
Everyone that shares a CAUSE is awarded the AWARENESS AWARD and encouraged to pass it along. You are welcome to the award when you make your AWARENESS poet. Please include the button with your post and add the Linky. This first linky is for the post of accepting and passing along the award as well as adding to your award collection. This will help us all learn about their causes as well. You are all WELCOME to post the Linky's so it is easy for your followers to share, too. ;D
Gladly, the community we live in has a great program to get everyone involved. They have organized sections and areas; assigning block captains and emergency personnel. They have a CERT training program and do weekly radio checks. Occasionally they do mock disasters to test the system. My husband is CERT trained, a ham radio operator and our block captain. Our community is doing a mock disaster this Saturday. I hope everyone has been woken up to the possibilities that truly ARE REAL!! The safety of our families and/or the ability to grab essential needed items on the way out the door is important!
If your community does not have a disaster preparedness plan, gather community members at city council meetings and demand they implement one!
Unfortunately, an area south of us just had a HUGE wake up call!
Some had to make a huge sacrifice losing their
homes and
possessions to wildfires sparked by a machine gun exercise. Thankfully, our friend's home is okay and is in the area that has been opened to residents only. WHEW!
Image by Katherine Tollison
Image by Cornelia and Connor
Individuals being evacuated had a
heads up as to what was coming.
Many WERE prepared. Sadly some were not.
Gladly, many have been allowed back to their homes.
Here is an update stating that it is now 50% contained and there are only 250 (down from 1600) homes still included in the evacuation:
*FYI: Wildfire season is in full force and there
are flash flood warnings for Southern Utah!
If you read my post from Monday, this will look familiar, but it's too important not to list here:
Do YOU have a 72 hour kit ready to grab and go in the event of an emergency where you may be called to evacuate for whatever reason?
WHAT would you grab on your way out the door in the event that your home may be lost??? Are they accessible??
Have YOU had any type of EMERGENCY training in place in your community?
Here are a few things to think about and have accessible:
*72 Hr Kit
*Kids
*Pets
*Critical Documents
*Medications
*Irreplaceable Photographs
*Computer Hard Drive/External Drive
(Having a backup online could be helpful for important files from your computer.)
For the most complete list to consider, go to this
AWESOME PREPAREDNESS BLOG
This lady was in my neighborhood and church when we lived in Riverside, CA. She had kids the ages of some of our kids... I taught her adorable daughter in one of my classes. She is AMAZING!! She REALLY KNOWS PREPAREDNESS and is constantly learning ALL she possibly can! Valerie's Preparedness Blog is a treasure trove of valuable information on any topic of preparedness. I absolutely LOVE her!! If you just want all the info for 72 hr kits, this link will take you to several posts that go over great info for a 72 hr kit!
*Button code available towards the top of the sidebar.
You have been honored with this award. There are often things that others are uninformed of and therefore, they rely on unreliable sources and/or assumptions about things. There is STIGMA in many facets of life. AWARENESS is how we can overcome ignorance. This is your opportunity to help educate others about a cause you believe in.
Let others know who gave you the award and link back to them as a thank you.
You may give this to as many or few individuals as you choose. This should be awarded to those with a cause. Something they want to raise awareness about. Don't forget to notify your recipients of the award.
Display the badge in your post and tell us about what you would like to raise awareness about.
Link your Award post to the Awareness Award Page so that as others find out about this, they can link back to your post and learn more. (In the Linky provided here)
Let's change the world, one blog post at a time!
Don't forget to Link your AWARENESS AWARD post here:
This is a Blog Hop!

10

entries so far... you're next!
---
*When you link, please start your caption with what your cause is. ;D
Grab the button near the top of the side bar: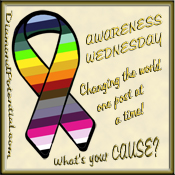 Write your post: Tell us about your cause, educate the world about it, let the world know how they can help in the cause. Remember that not everyone will be as passionate as you are about a given cause, but you will help others have a better understanding and will also find others to jump in and offer support to you and/or your cause.
Link up your post to share with others. Feel free to grab the linky and post to your page, also. Let's get the word out and start making the world a better place, one post at a time!
Be considerate of others causes. Don't post negative comments, attack individuals or groups.

THUMPER'S THEORY APPLIES: "If you can't say something nice (supportive, constructive, etc...) don't say anything at all.

Make new friends, learn about things that are affecting other people's lives, become allies... You may find some dear friends by following others and showing support for their causes! Find at least a few to follow each time and help spread the news to your followers!



*These can be different causes each time. Many people have various things they are passionate about or would like to open others eyes to.