Hubby , Silly-boy, Heartbreaker Vincent, and Hubby's sister left for SoCal last Wednesday to visit our son and his family, as well as my brother-in-law and his wife. They will be driving back home on Tuesday. They have been having FUN WITHOUT ME and Stitch-Kid!! ??? *sigh* I am looking forward to when we don't have to deal with kids on different schedules anymore. The elementary schools here are on a year round schedule with tracks and the Jr High and High school are on a traditional schedule. That really makes it a PAIN for families to have FUN TOGETHER!! WHO thought of this craziness, anyway???
SOooo... Did I EVER tell you that when we lived in SoCal we had annual passes and went to Disneyland FREQUENTLY!! We had those Fast Passes down to a SCIENCE!!! We knew all the ins and outs of the magical place!! It was a great escape from the real world!!
This picture from 2004 should give you
an idea of HOW MUCH we LOVED it!!
They are going TODAY!!! WITHOUT US!! *sigh*
Although, if it was ME, I'd do the same and
I DO hope they have FUN!!
Sad thing, when we went in FEB my tail bone was bothering me so bad that I stayed in the hotel while they went. I was good with it, though. I couldn't see spending that kind of money to watch them go on rides all day. The tail bone has been a little better lately, so I'm kinda' wishing I could be there with them this time. Next time, I guess... It's not that big of a deal, but it brings back all those fun memories!! Hubby will forever be a KID at heart! That's a GOOD thing, too!!
Honestly,
I'm missing them
MUY MUCHO
and am
REALLY
looking forward to their return
! ;D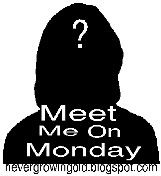 Questions:
1. What is your favorite pasta dish?
MMMmmmm... I have to choose ONE???
Last time I went to Applebee's (for Stitch-Kid's birthday), they had a new dish. I tried the Florentine Ravioli with Chicken. It was SO YUMMY!!! I think I'll have to try the Provolone-stuffed Meatballs with Fettuccine next time!! I love the Chicken Fettucine Alfredo at Olive Garden, too!!

2. The last thing you do before going to bed?
Make the dogs go out to go potty. ;p

3. How many nights a week do you go out to eat?
Sometimes none... Sometimes carry out,
like Chinese, Mexican or pizza.
Occasionally we get a date or celebrate
a special event with the fam... ;D

4. Are you an avid book reader?
I wouldn't say I'm an avid book reader...
I READ BOOKS... but I have to think about a good time to start one; because when I DO, and if it's GOOD, it will consume me until it is DONE! *sigh*

5. Would you rather have x-ray vision or bionic hearing?
Then I would hear more clearly and not misunderstand things I THOUGHT I heard... *sigh*