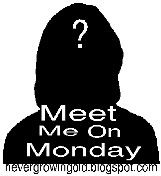 Questions:
1. How many TV's do you have in your home?

2. What is on your bedside table (nightstand)?

3. How many pair of shoes do you own?

4. Can you change a flat tire?

5. Do you prefer sweet treats or salty treats?




If you'd like to play along, the Linky is over at


My Answers!

1. How many TV's do you have in your home?
7... BUT not all used for the purpose of WATCHING TV
one is used as a computer monitor for my hubby (when he got it and it was bigger than the one we had for WATCHING TV, I threatened to trade them...

SO... that brings us to the one in our family room that is used for watching TV!!

There is one in the guest room

The one from our room that NEVER got used but gets moved around... such as when we go camping, when the boys are fighting over what to watch, sometimes we'll put that one in another room... Used for DVDs, as it's not hooked up.

Then there's one in the basement only used for their game console (Not hooked up)

I have a mini TV (7") that I put next to the computer so I can edit and watch something at the same time if I want to. (Antenna only)

one is actually a projector/screen in our theater we use for watching movies
2. What is on your bedside table (nightstand)?
Lamp, earrings, hair-band, coaster, empty glass that once had water in it... Whatever clutter I empty out of my pockets before dropping them at the side of the bed... (Won't catch me escaping fires without MY drawers on!! LOL!)
3. How many pairs of shoes do you own?
WOW!! I don't even KNOW!! From what I come up with... 20! Too many... and yet... NOT enough!! BWAHAHAHA!!! I was introduced to New Balance by my doctor when we discovered my issues with
plantar fasciitis
. They made such a HUGE difference!! I would gladly have New Balance in every color... and style!! But I have to admit I do love my Sketchers that I got for dressing up, though!! If you know me, you can probably tell that I am usually more concerned with comfort than being up on the latest fashions. ;p
These I was SO excited about because they had the BLACK N so I could wear them on photo shoots with my black slacks without it being too obvious that I'm wearing SNEAKERS!! But having Plantar Fasciitis makes wearing dress shoes SO PAINFUL... and even MORE SO when it's OVER. GAH!! So THESE were a GODSEND!!
I have New Balance also in
brown, tan, & white with blue N...
*****
I was excited when I found these Sketchers!
I'm an overweight shorty with plantar fasciitis. A little lift, with support and comfort all came together nicely here. I bought these in black and cream colors. So usually this is what you'll see on my feet at church.
*****
These aren't too bad comfort-wise and better for our cruise;
but I wish they were COMPLETELY black...
*****
These are adorable on,
but I can't handle them for any length of time.
*****
My daughter thinks these are HORRENDOUS and POINTY TOES are OUT!! But when I'm in my slacks or a long skirt and it's cold/snowy out, they work for me. Like I said, I'm not THAT in to staying up on the latest fashion... to HER dismay... *sigh*
*****
I also have 6 pairs (white, black, hot pick, 3 brown... LOL!) of sandals, a pair of clogs, and off white wedges that I don't really wear anymore because I slip in them too much and they make my toes go numb?? What about slippers??? I have 3 pairs of THOSE!! HAH!!
You know the adorable knee high boots that are so popular??? Yeah! I got some!! ONLINE... Thinking I KNOW my size... Well, foot part was fine but I couldn't get them zipped up!! HOW EMBARRASSING is THAT???? So they are GONE and I'll have to look for a good deal on boots that are WIDE WIDTH!! BOO!!!
*****
If you KNOW your size by trying on or owning a brand, there is
6pm.com
, an AWESOME discount online store that has some FANTASTIC buys at times!! They do have some other items, too. You can sign up for their newsletter and they'll send a heads up on their deals!!
4. Can you change a flat tire?
I have a CLUE how to and would
IF there were NO OTHER OPTIONS!

5. Do you prefer sweet treats or salty treats?
It depends on what I'm craving...
I love both more than I should... OBVIOUSLY!!