Emma is such a beautiful song for Sunday!!
FYI: Mindy is performing in Farr West Monday night at
Bella's Mexican Grill's Old Mission Courtyard
from 7-9pm
2651 North 1850 West
Farr West, UT
For TIX call 801.737.0557
Tickets are $10 or $8 in groups of 4+
Hubs and our youngest are visiting in SoCal,
Stitch Kid and I are going for Family Out Evening! ;D
Anybody want to JOIN US??
Mindy's voice is angelic and she's a great performer!
You WON'T be disappointed.
************
My sweet friend,
WEEZER
broke her ankle on Thursday!
This is an ankle that has been broken before... :`(
She is having surgery on Monday and could use prayers on
her behalf for all to go well and a quick and FULL recovery!
Read the harrowing tale of the event at
Weezer's Haven
!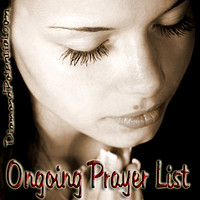 You can grab the linky toward the top of my sidebar. ;D
This is an ongoing prayer list of those that need the power of God to help them through a difficult time. Feel free to link up your list. I'll work on a button and we can make this a weekly thing as part of our Sunday posts. Just think of some of those individuals in need of prayers and post so all that read can say a little prayer. The power of prayer is an amazing thing!!
The main list will be updated weekly here and the names will be linked to the prayer list they are on. Thank you for participating!!
This is the main list I will update weekly with those individuals you post in your link and link them to your post:
Current List
Cancer Victims in the fight of their lives: Sid, Paul, Redhead Riter's dad, Colette, Angel
Other Health Issues: Melissa, Janie, Katrina
Terminal Child Disorders: Vincent
Child health issues involving much medical attention: Bug, Robert, Colby, Brandon
Family/Life Circumstances: Dottie, Amy and Travis
Suffering loss: Frank, Dawn, Kristin
Dealing with disorder issues: Holly, Megan, Jaime Kay, Teri, Donde
Current Health Issues: Lindsay
Grieving Family: of Clay Sannar (42) LDS Bishop shot and killed in his office during church by stranger
*Surgery and Recovery: WEEZER, Jules' Dad, Colby, Andy