Everyone that shares a CAUSE is awarded the AWARENESS AWARD and encouraged to pass it along. You are welcome to the award when you make your AWARENESS post. Please include the button with your post and add the Linky. This linky is for the post of accepting and passing along the award as well as adding to your award collection. This will help us all learn about your causes as well. You are all WELCOME to post the Linky's code so it is easy for your followers to share, too. ;D
You have been honored with this award. There are often things that others are uninformed of and therefore, they rely on unreliable sources and/or assumptions about things. There is STIGMA in many facets of life. AWARENESS is how we can overcome ignorance. This is your opportunity to help educate others about a cause you believe in.
Let others know who gave you the award and link back to them as a thank you.
You may give this to as many or few individuals as you choose. This should be awarded to those with a cause. Something they want to raise awareness about. Don't forget to notify your recipients of the award.

Display the badge in your post and tell us about what you would like to raise awareness about.

Link your Award post to the Awareness Award Page so that as others find out about this, they can link back to your post and learn more. (In the Linky provided here)
Let's change the world, one blog post at a time!
***********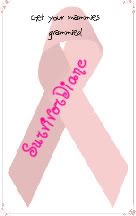 Diane is a SURVIVOR of breast cancer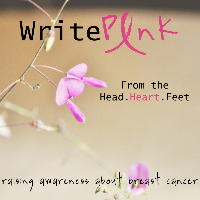 This IS Breast Cancer Awareness Month
Reminder: on the Awareness Page, there is a Linky dedicated to breast cancer all month long. This Linky isn't mine, but I will leave it there indefinitely. I don't know how long they will leave it open, though. For this month for sure. I will leave it so we have access to their links and stories. ;D
*****
Lori is promoting Awareness for her son's cause!
"Cheif Goku C Studios
is a great new blog full of video game reviews, and this year the blogger... is participating in something very commendable. He is raising money and awareness for his local children's hospital."
Kenny is dealing with a pretty severe roller-coaster of Bipolar Disorder. Suzie has created a blog for journaling their experiences. The One With Mental Illness Rules This is not just a great way to spread awareness, but it can also be very therapeutic for her in dealing with the situation that is FAR from EASY...
Kenny also has a blog, Poetry of a Headcase which can be graphic. I thought I'd give a head's up in case you are sensitive about that. ;D
I LOVE this!! I got both of my dogs through rescues and they bring such joy to my life. They are great companions and part of our family.
5 Reasons to Adopt a Dog
You WILL make a difference.
If the problem of pets dying in shelters seems overwhelming, think about this: If just one in three people opted to adopt rather than buy a dog, no adoptable dogs would need to be euthanized for lack of a home.


You will find your perfect match.
With more than 174,600 adoptable dogs posted on Petfinder (an estimated 25% of them purebreds), you're certain to find your perfect match.


You'll save time and money.
Sure, shelters and rescue groups charge adoption fees, but you can easily find a pet who has been vaccinated, spayed or neutered and, quite often, trained. If you were to pay for those services yourself, you'd spend much more.


You will receive unconditional love.
Ask anyone who's adopted: Rescued dogs just seem to know you saved them (especially older dogs), and they repay that act of kindness a thousandfold. How many times have we heard someone say their shelter pet in fact rescued them?


You will not be supporting cruelty.
Each dog adopted rather than purchased means less of a market for unhealthy, inbred puppies produced under cruel conditions in puppymill operations throughout the country.
Thanks to Petfinder.com here are some links to help you out if you are considering the adoption of a shelter dog.
Even if you're not ready to adopt, we've got
10 easy ways you can
help shelter dogs
. So spread the word:
and you can further help
all animals by taking action!
help further the cause in just a few seconds
with petitions that can be signed, as well.
*****
I want to thank all of you for participating and hope you will take this award and spread it among others you've found that spread awareness for a good cause, too!
If you have a few moments, please check out their posts to learn more about these great causes for AWARENESS!! ;D