Sorry I'm late everybody!! Things are a bit CRAZY at the moment. I'm trying to finish some irons in the fire. LOL! For the moment I'm linking the Awareness Hop but will feature this past week's entries soon. Hopefully by tonight, so keep an eye out for it. ;D If you's like to go ahead and give them a visit, they are #s 30, 31, and 32. This week we begin on #33! I hope more will participate and link up regularly
There's only one other that added from last week not above, so check out Suzie while you're at it!! I'll be doing the Award/Feature soon. ;D
Get yours on the linky and I'll feature your's TOO!! ;D
Grab the button towards the top of the sidebar: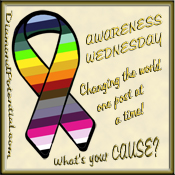 Write your post: Tell us about your cause, educate the world about it, let the world know how they can help in the cause. Remember that not everyone will be as passionate as you are about a given cause, but you will help others have a better understanding and will also find others to jump in and offer support to you and/or your cause.
Link up your post to share with others. Feel free to grab the linky and post to your page, also. Let's get the word out and start making the world a better place, one post at a time!
Be considerate of others causes. Don't post negative comments, attack individuals or groups.

THUMPER'S THEORY APPLIES: "If you can't say something nice (supportive, constructive, etc...) don't say anything at all.

Make new friends, learn about things that are affecting other people's lives, become allies... You may find some dear friends by following others and showing support for their causes! Find at least a few to follow each time and help spread the news to your followers!
*These can be different causes each time. Many people have various things they are passionate about or would like to open others eyes to.