from last Thursday goes into the
situation with my next younger sister.
If you or someone you love are dealing with abuse situations, I pray that you will seek the help you need to get out of that situation. You deserve better!! And YES!! I said someONE... men are also susceptible to abuse but report it even LESS due to embarassment. NO ONE deserves to be abused. PERIOD! Exclamation MARK to infinity and BEYOND!!!!!!!!
Domestic abuse falls into a common pattern, or cycle of violence:
Abuse – Your abusive partner lashes out with aggressive, belittling, or violent behavior. The abuse is a power play designed to show you "who is boss."
Guilt – After abusing you, your partner feels guilt, but not over what he's done. He's more worried about the possibility of being caught and facing consequences for his abusive behavior.
Excuses – Your abuser rationalizes what he or she has done. The person may come up with a string of excuses or blame you for the

abusive behavior

—anything to avoid taking responsibility.
"Normal" behavior — The abuser does everything he can to regain control and keep the victim in the relationship. He may act as if nothing has happened, or he may turn on the charm. This peaceful honeymoon phase may give the victim hope that the abuser has really changed this time.
Fantasy and planning – Your abuser begins to fantasize about abusing you again. He spends a lot of time thinking about what you've done wrong and how he'll make you pay. Then he makes a plan for turning the fantasy of abuse into reality.
Set-up – Your abuser sets you up and puts his plan in motion, creating a situation where he can justify abusing you.
Your abuser's apologies and loving gestures in between the episodes of abuse can make it difficult to leave. He may make you believe that you are the only person who can help him, that things will be different this time, and that he truly loves you. However, the dangers of staying are very real.
The Full Cycle of Domestic Violence: An Example
A man abuses his partner. After he hits her, he experiences self-directed guilt. He says, "I'm sorry for hurting you." What he does not say is, "Because I might get caught." He then rationalizes his behavior by saying that his partner is having an affair with someone. He tells her "If you weren't such a worthless whore I wouldn't have to hit you." He then acts contrite, reassuring her that he will not hurt her again. He then fantasizes and reflects on past abuse and how he will hurt her again. Heplans on telling her to go to the store to get some groceries. What he withholds from her is that she has a certain amount of time to do the shopping. When she is held up in traffic and is a few minutes late, he feels completely justified in assaulting her because "you're having an affair with the store clerk." He has just set her up.
You will ALWAYS find this pic on my sidebar!
You DON'T have to live this way!
Need HELP or someone to relate to?
HOTLINE: 1-800-799-SAFE (7233) OR 1-800-787-3224 (TTY)
UK Hotline: 0808 2000 247
CANADA: Hotline: 1-800-363-9010

and Canada Abuse Directory
NATIONAL TEEN DATING ABUSE HOTLINE: 1-866-331-9474
National Child Abuse Hotline: 1-800-4A-CHILD
National Sexual Assault Hotline: 1-800-656-HOPE (4673)
Grab the button towards the top of the sidebar: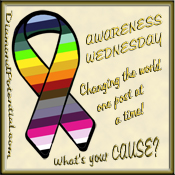 Write your post: Tell us about your cause, educate the world about it, let the world know how they can help in the cause. Remember that not everyone will be as passionate as you are about a given cause, but you will help others have a better understanding and will also find others to jump in and offer support to you and/or your cause.
Link up your post to share with others. Feel free to grab the linky and post to your page, also. Let's get the word out and start making the world a better place, one post at a time!
Be considerate of others causes. Don't post negative comments, attack individuals or groups.

THUMPER'S THEORY APPLIES: "If you can't say something nice (supportive, constructive, etc...) don't say anything at all.

Make new friends, learn about things that are affecting other people's lives, become allies... You may find some dear friends by following others and showing support for their causes! Find at least a few to follow each time and help spread the news to your followers!
*These can be different causes each time. Many people have various things they are passionate about or would like to open others eyes to.
Don't forget to link up your
breast cancer awareness posts here!
October is breast cancer awareness month. As a health care worker, I see and dealt a lot of patients even friends going through the battle of breast cancer. This month I would like to join the pink ribbon challenge. Just click the pink ribbon to help one woman save life by getting free mammogram. If you may join with me and pass the pink ribbon challenge.

These links are ONLY for "Pink Ribbon Challenge" participants, any links not related to the Pink Ribbon Challenge will be deleted.

Grab the code at

Things We Share

and post it in your blog entry. Please post only the

Pink Ribbon Challenge

actual post link here and help The Breast Cancer Site and National Breast Cancer Foundation Inc. by spreading the Pink Ribbon Challenge.