Today's song is actually country,
but the message is beautiful.
Jim Brickman is one of my favorite pianist
I'm including the lyrics so you don't miss a thing!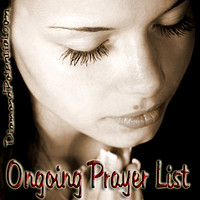 This is an ongoing prayer list of those that need the power of God to help them through a difficult time. Feel free to link up your list. I'll work on a button and we can make this a weekly thing as part of our Sunday posts. Just think of some of those individuals in need of prayers and post so all that read can say a little prayer. The power of prayer is an amazing thing!!
The main list will be updated weekly here and the names will be linked to the prayer list they are on. Thank you for participating!! This Link is always open and available on the Ongoing Prayer Page.
This is the main list I will update weekly with those individuals you post in your link and link them to your post:
Cancer Victims in the fight of their lives: Sid, Paul, Colette, Angel, Joe Martinez
Other Health Issues: Melissa, Janie
Terminal Child Disorders: Vincent
Child health issues involving much medical attention: Bug, Robert, Colby, Brandon
Andy is home recovering from his injuries from being trampled by a bull.
Family/Life Circumstances: Dottie, Megan
Suffering loss: Frank, Dawn, Kristin, Grieving Family of Clay Sannar (42) LDS Bishop shot and killed in his office during church by stranger, Karli, Sherry (aka The Redhead Riter)
Dealing with disorder issues: Holly, Megan, JaimeKay, Teri, Donde, Kenny, Karli
Current Health Issues:Melissa, Janie, Lindsay, MY POP

*Surgical Recovery: Jules' Dad, Colby, Weezer, Paula
Continued prayers on their behalf is appreciated. ;D
Sherry (aka The Redhead Riter) whose father lost his battle with cancer this past week. You can read her touching words in her post "Dad is Gone and I Am Grieving" She is an incredible "Riter" and always supportive and helpful to everyone. She could use Cyber (((HUGS))) and LOTS of prayers!
My POP is having is getting old and dealing with advanced stages of Parkinson's and heart problems. We've been afraid of losing him a few times. He's having more tests done this week. He and my mom, who tirelessly cares for him, could also use prayers.
If you have a minute to give them a comment of inspiration and say a little prayer in their behalf, that would be AWESOME!! ;D
***
Also linking up with:
This is the one YOU add to: