You're Not Alone
The song is by Michael McLean and John Canaan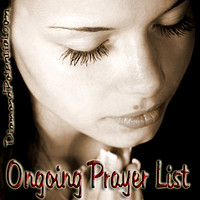 This is an ongoing prayer list of those that need the power of God to help them through a difficult time. Feel free to link up your list. I'll work on a button and we can make this a weekly thing as part of our Sunday posts. Just think of some of those individuals in need of prayers and post so all that read can say a little prayer. The power of prayer is an amazing thing!!
The main list will be updated weekly here and the names will be linked to the prayer list they are on. Thank you for participating!! This Link is always open and available on the Ongoing Prayer Page.
This is the main list I will update weekly with those individuals you post in your link and link them to your post:
Cancer Victims in the fight of their lives: Sid, Paul, Redhead Riter's dad, Colette, Angel, Joe Martinez
Other Health Issues: Melissa, Janie
Terminal Child Disorders: Vincent
Child health issues involving much medical attention: Bug, Robert, Colby, Brandon
Andy is home recovering from his injuries from being trampled by a bull.
Family/Life Circumstances: Dottie, Megan
Suffering loss: Frank, Dawn, Kristin
Dealing with disorder issues: Holly, Megan, JaimeKay, Teri, Donde, Kenny, Karli
Current Health Issues: Lindsay
Grieving Family: of Clay Sannar (42) LDS Bishop shot and killed in his office during church by stranger, Karli

*Surgical Recovery: Jules' Dad, Colby, Weezer, Paula
Continued prayers on their behalf is appreciated. ;D
Joe Martinez: "

Joe is a veteran and was diagnosed with a type of bone cancer called

plasmacytoma

last year. He's exhausted his leave, he's out of money and he's fighting this insidious disease. He's down to nothing at all.... H

e is in a secondary hospital. Its for patients who need extended treatment. His immune system is still weak they only let family see him and its only 2 of us at a time. He is in good spirits and getting a little better everyday. He is eating little better meaning more solid foods. He as well as the family are just taking it a day at a time. Also is voice is slowly coming back to him."

Megan: Her husband just left for a technical school for the military and she will be without him for a few months. Dealing with bipolar makes that situation even harder than others may realize.
If you have a minute to give them a comment of inspiration and say a little prayer in their behalf, that would be AWESOME!! ;D
***
Also linking up with: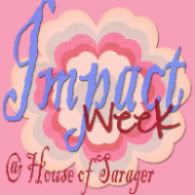 Be sure to check out Jackie's Impact Week!! ;D
************************
This is the one YOU add to: