3rd Day of Christmas
This one is for Kristina P... the Snuggie QUEEN
***
THIS one is REALLY CORNY
but FUNNY!!
WARNING: If you're easily offended about
bathroom issues or young adults being silly...
Do not watch! LOL!! ;p
****
On to the regularly scheduled post... LOL!
Want to join in on the fun?
Link up with
Mama Kat
's Writing Workshop!
Come on! You KNOW you WANT to!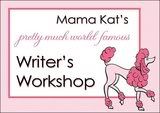 Choose a prompt, post it on your blog, and come back to add your name to the link list below. Be sure to sign up with the actual post URL and not just your basic blog URL (click on the title of your post for that URL). For good comment karma try to comment on the three blogs above your name!!
The Prompts:
I have to kick it off with one of our adorable grandchildren!
My nephew graduated from high school in June...
Family time in the pool!
My favorite pool shot of the summer!
PEACH PIE!!
From our trees to the pastry! YUMMY!!
Getting the WHOLE group together!! ;D
Seeing Jon Schmidt and Steven Sharp Nelson
in concert at the Sandy Amphitheater
Catching a dragonfly on hubby's flowers! ;D
BEACH FUN!!
This one makes me laugh!!
The "Silly Boy" in the front there just turned 12!!
Yeah... This one came from the ARCHIVES!!
I LOVE awesome silhouettes!!
...and THAT bride had the cutest little boy!!
My favorite wedding of the season!
This bride, her mom and grandma were
AWESOME!! ;D
Meeting my neice for the 1st time!!
Hadn't seen my brother's family for about 7 YEARS!!
OK... OK... So maybe I have TOO MANY...
Trust me, there are PLENTY MORE... LOL!!
You should NEVER ask me to show you pictures!!
I have TOO MANY! LOL!