This was my son's first assignment for his

Film Production 1 class. This assignment was another where he could not use sync sound from the camera. All sound in this film was added in post production. Along with this requirement he had to pick three papers randomly from a pile that had some kind of noun on it that he had to incorporate into his 2 minute film. The three nouns that he got were: "A dirt road", "a has-been musician", and "a stuffed doll". With these three requirements this is the idea that came to him.
I remember thinking it strange that he was asking me where he might find a stuffed devil holding a miniature violin... in SEPTEMBER!! LOL! He ended up getting the devil on EBAY and I think the violin came from the thrift store. I was pretty amazed that he was able to find them. I guess I convinced him to go ahead and post it even though he said it need more polishing... because it showed up!
Please watch and enjoy and feel free to comment and critique. I will forward those to him. He welcomes them. OH YEAH!! He's the guy that walks by holding hands with the girl. The fiddler is his room mate that doesn't play the fiddle! I thought he was an AWESOME FAKER!! ;D
If you'd like to know more about him, I did a post about him for his birthday

HERE

... and his other video, which is quite funny... is towards the bottom of that post.
OK, this one is my son's creation...
but since I helped in

HIS "creation"...
IT COUNTS!!
LOL!! ;p
I was pleasantly surprised to be featured by
Java at
Never Growing Old
for her
Follow Friday 40 and Over
meme.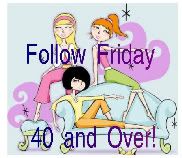 THANK YOU!!
If you'd like to play along...
CLICK
on over!
***
So I get

2 AWESOMES

out of this post!!
My son's video clip
AND
Getting featured by JAVA!!
(((HUGS)))