******
I found this
AWESOME
Who has made it...
If you break it down to two things a week, that is 104 things that are awesome and a great way to reflect back on the little, and big things that made your year amazing. It also teaches you to look for things to be grateful for!"
If you'd like to join in on this AWESOME PROJECT for 2011, you can link in on this post and she will put a list of participants in her sidebar! ;D So HEY!! PAY IT FORWARD, FRIENDS!
I will continue with some of my other projects, but it certainly won't hurt me to look for more AWESOME in my life because there IS PLENTY of it! Besides, isn't AWESOME... like TOTALLY... MY WORD??? I'm SO SURE!! (SMACK that Valley GIRL!! LOL!) Anyway, it HAS always been a common word I use. I guess it's a SIGN that I need to be a PART of "A Whole YEAR of AWESOME!"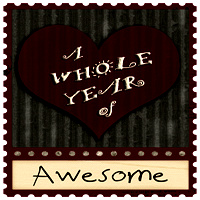 FYI: I'm debating KEEPING the cute Holly leaves since it IS my name and all... WHAT do YOU think???
*****
The Eye Candy Blogfest.
To participate:
on New Year's Day, just post a favorite picture.
And you know ME!!!
I'm NOT very good at following rules
OR NARROWING DOWN...
MANY things make me smile!!
My funny and SWEET Hubby
and memories of Disneyland!
Hubby likes to grow and make YUMMIES!!
My BABY-GIRL Jazzi
and Silly Boy, of COURSE!
and my SIS who is also my BEST friend
who accepts me with ALL my MANY flaws
offers support and cheering regularly!
YES!! I COULD GO ON...
I wish to ADD that ALL of these are
AWESOME!!! ;D