My St Patrick's Day blog design is
my only claim to creativity this week!
It won't be here long, but
I couldn't leave the HEARTS!
So does this one count for a week
I missed last month? LOL!!
For those of you that have been around a while, you'll notice that the framed pictures on the side are always part of the design. They are kind of like the blog trademark. They actually do have significance. So if you're at all curious, I'll fill you in.
At the top you'll notice the drama masks. I DO love the theater and participated in it in my younger years. But the masks also show a happy face and a sad face that show the opposite poles of my bipolar disorder.
Next you see images that represent my family and photography. All persons in them are family (daughter and husband are silhouettes in the sunset, and another daughter and her youngest are in the other).
The middle images in black and white are actually me as a teen. YEAH... Used to be just doesn't count anymore... does it... (statement, not a question... LOL!)
The next 2 are my dogs Jake and Jasmine... aka Chubs and Jazzi. They are important in my life, too.
The bottom ones represent my religion (LDS temples) and also my photography again, as I did take them.
My signature
and divider have significance, too.
(((HUGS)))
is somethings I frequently sign off with,
and since my name is Holly,
the holly border now stays year round.
NOW you KNOW! ;D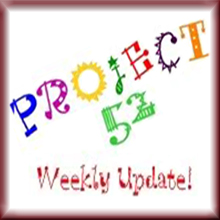 #38: March background design